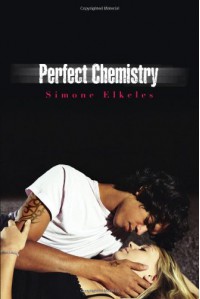 Read in 24 hours, what do you think? I wasn't thinking I'd like this book as much as I did. I'm a die hard UF/PNR reader. I've recently (& reluctantly) stumbled into YA. Now throw in a YA book with not a hint of fantasy anywhere and, well, I had to be talked into buying and reading this one. It helped that I was at a Smart Chicks Tour book signing and said recommend-er was in my face handing me the book. But it's an entirely other thing to pick up the book and read it!
Wow!! This is not your typical girl meets boy from the wrong side of the tracks love story. Okay, so it kind of is. But Simone Elkeles adds so much more to the story with depth in the characters and a very strong story. Indeed, Ms. Elkeles finds a way to write Alex in such a way that his charisma and seductiveness just ooze from the pages. Brittany is not quite as deep as Alex but she's not your average head cheerleader type, either. It is an easy, quick read. You'll know right away whether you'll like the book or not.
I seriously enjoyed getting lost in this book so much that I couldn't put it down. I literally carried this book around the house with me to read in every spare moment.
It's too bad there are only three Fuentes brothers because I really enjoy Simone Elkeles' story telling and writing skills.